A tribute to Francis MacNutt

Recently, The Reverend Dr. Francis Scott MacNutt went to be with the Lord after a lifetime of ministry. This post is written in two parts: one from Jamie's heart and the second from David's heart.
From Jamie
The first time I heard the name Francis MacNutt, I am sure I casually dismissed it. Which is not uncommon if we think about all the names of all the people we've heard mention of throughout our lives. But for me, this name wasn't meant to be dismissed or forgotten.
It was 2016, and I was recovering from a mysterious illness that nearly claimed my life. I was only back at work part-time, and I felt a tug somewhere deep inside myself that "work" as I knew it then was only part of what I was supposed to be doing. I had been at a crossroads health-wise, and now, the path ahead looked somewhat unfamiliar. I felt unfamiliar to myself but all the while grateful that I'd overcome being so sick.
As we were trying to establish a new normal, I bumped into a friend in the bank parking lot one afternoon, and she asked if I wanted to be part of a healing prayer class at church that was starting up. I'd never heard of healing prayer, but surprisingly, that deep place within me activated and, as strange as it sounds, I knew that for some reason that I needed to take that class.
Fast forward a few months. I'm in the class, and the wheels are falling off every bit of "religion" I thought the Christian life was based on. Turns out, I didn't have even a sliver of the real access to God and tools to truly live as I had always thought. At that point, my prayer life consisted of saying the blessing at meal times (and usually only dinner, and even then, only sometimes), praying during a crisis, or on occasion, lifting a prayer for a friend or loved on in need or before falling asleep. Learning about healing prayer was a game changer. All the sudden, it's like I came alive.
The healing prayer class was based on the teachings of The Reverend Dr. Francis MacNutt, a Catholic priest who'd prayerfully left the priesthood when he met and feel deeply in love with his wife Judith. They'd gone around the world, preaching, healing, and teaching others, and then co-founded Christian Healing Ministries in Jacksonville, Florida. There, they held healing services, took private appointments, and taught within the School of Healing Prayer.
Toward the end of the healing prayer class at our church, our leaders briefly mentioned that if we wanted to go further, we could consider attending the Journey to Healing retreat the next month. Time passed, but the thought stayed with me. At the last minute, I registered, drove to the retreat alone, and checked in.
Over the next three days, my life as I knew it changed forever.
I came home visibly and undeniably healed from many of the lingering symptoms that had plagued me for more than a year. My husband, David – a born skeptic – had to acknowledge that I was remarkably different. Not only the physical healing, but I had experienced God in ways I never knew were possible. It gave me hope on a level that I knew could sustain me. And, for the first time in decades, I knew God was real.
Now, I realize that sounds as if I never really believed in God. But the truth is that I wanted to believe, and I expressed that I believed, but my soul was never saved through the quickening of the Holy Spirit within me. I'd never given the Holy Spirit any thought aside from knowing that He is part of the Trinity. At the retreat, God became real to me, as if He were standing beside me (and I do believe He was). It was a Spiritual marker in my life.
What happened after that, even I couldn't have imagined. Over the course of the next year, David accompanied me to Christian Healing Ministries and experienced the power of God for himself. He was raised in church, but "going back to the basics," as we referred to it, was incredibly refreshing for him. He didn't understand it all, but he knew it was real. And, perhaps the most special thing, David learned of his spiritual gifts, the idiosyncrasies and peculiar attributes about himself that he could never explain. God revealed those to us, and more, on that trip, and we came home and began to go deeper.
Prayer is now a central part of our lives. It's given us a lifeline, a safety net, and a cradle. It's revealed God's love, direction, praise, and correction when we needed it. It's healed us on levels small and large. Our dog was injured but didn't have to go to the vet. Our son, Jack, immediately stopped being afraid of the dark after we prayed with him in this way for the first time (he'd been consistently afraid of the dark for five years). Our older daughter experienced the presence of God. I could go on and on.
None of this would have been possible without Francis MacNutt. And the kicker is – he had no idea who we were. We weren't any different from the thousands of others he and Judith, and their team of ministers, have helped. We were part of the flock of lives changed by their commitment to channel the love of Christ by the power of the Holy Spirit to heal, restore, and redeem us.
A few weeks ago, Francis left this earthly life at the age of 94. In reading his obituary, the thought occurred to me: how do you go about summarizing the impact of this one man's life, for the rest of humanity? I just don't think it can be done. Only those who have felt Francis's influence can attest to the weight that it carries with them. I wouldn't begin to imagine how many people, over the course of his life, could provide that kind of testimony.
For David and I, and our family, we will always know and remember Francis. He and Judith, who now carries the torch at Christian Healing Ministries and is the keeper of his legacy, will forever be a part of our story.
I believe that certain special people walk the earth and are angels among us. That is to say, it's not that they are blemish-free, but that they have matured in the Spirit to such a degree that to be around them is to feel the presence of God. Francis was one of these.
From David
When I heard of Francis MacNutt's death, the first thing that came to my mind was, "This man deserves sainthood but probably won't receive it." Francis, along with Agnes Sanford and a few others, literally resurrected the practice of healing prayer in Christianity over the past 50+ years. I've heard numerous stories of miraculous healings coming from Francis' prayers throughout his ministry.
After Jamie's illness in 2016, she became involved in healing prayer after taking a class at church. She would come home on Wednesday nights and talk my ears off about it – usually starting around 10:30-11:00 pm when I was ready to settle down for the night. I basically placated her as she told about the things she'd learned. Honestly, after the experience we had just been through, I was glad to see a fire in her once again.
Sometime after the first of the year in 2017, she asked me if I would be willing to go to Jacksonville, to the campus of Christian Healing Ministries (CHM), and experience healing prayer myself. I did not give her an answer, but finally agreed after being asked multiple times. CHM's School of Healing Prayer was holding its Level 1 Class in March of that year and we decided to go. Ever skeptical, I promised Jamie that I would judge the entire thing on its merits. Fear got the best of her on multiple occasions before we went as she "knew" I was going to poo-poo on the entire thing and ruin it for her.
The date finally came and as we are making the 350-mile journey to Jacksonville, Florida, we talked about what this experience would be like. Somewhere just south of Savannah, Georgia, it all came to a head with her when she panicked and told me to forget the entire thing and turn the car around. We got through that moment and made it to Jacksonville.
The following morning, we arrived at CHM for the start of class. The people there were nice. Too nice. Most were excited about this experience and wanted to share God's love with other Christians. I, on the other hand, was more or less trying to survive it. But I kept an open mind.
What came next was a total shock to me. All of my life, I had experience with "Christians" that seemed fake, or at least deeply flawed, or at church for the wrong reasons. My parents had both been involved with their church on different administrative committees and I got to see behind the curtain and, frankly, didn't like it. I've never liked church politics.
The folks at CHM weren't like that at all. They stripped away of all of the garbage that has divided us over two millennia. There were no dominations they were promoting. There were no politics. Only God's love. The things I had always wanted Christianity to be were finally right there. On that extended weekend, I found God and started my journey with healing prayer and living a Christian life.
All of this was possible because of the vision of Francis MacNutt and his wife Judith. I was able to meet him on our final day there. I was baptized in the Holy Spirit on that day and he blessed all of us in that service. I stopped watching violent TV and started reading religious books for the first time soon afterward. This past Christmas, for as long as I can remember, I listened to Christmas music on the radio. My nightstand is full of books in my queue ready to read. I have stepped up and showed our kids that men can be strong and still get up and pray for others. I have (and continue to) try to live the life that was revealed to me on that day.
I've met Francis MacNutt twice and spent a total of maybe two minutes with him. Our family finally got on its path because the work of this man.
I would qualify that as miracle number one.
Here's to you Saint Francis. I hope you enjoy your eternal life. You've certainly earned it.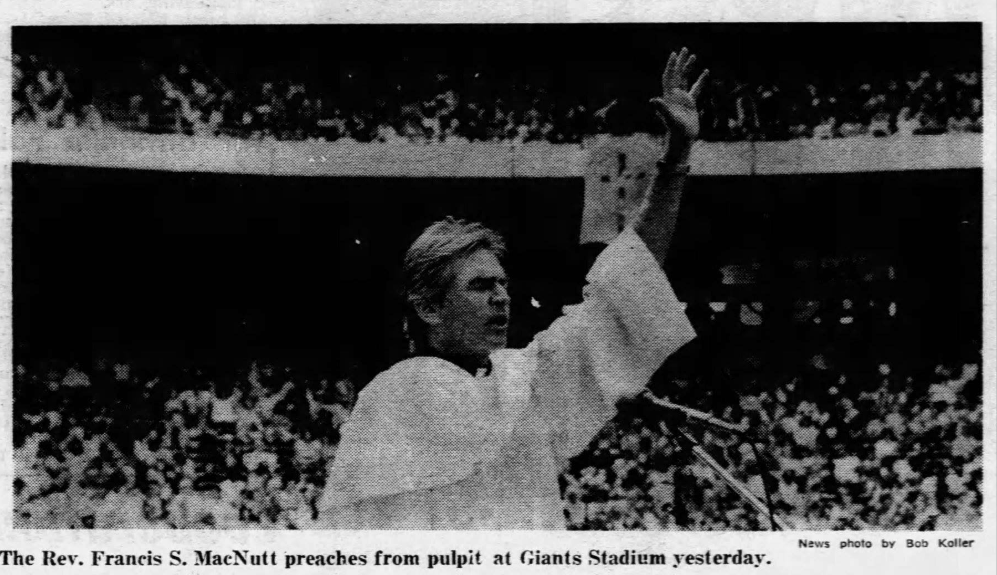 A prayer in celebration and honor
Lord, thank you for the life, ministry, and man who was Francis MacNutt. May what he began here continue to grow and lead others to your feet by the power of your Spirit. Amen.
"The Spirit of the Sovereign Lord is on me, because the Lord has anointed me to proclaim good news to the poor. He has sent me to bind up the brokenhearted, to proclaim freedom for the captives, and release from darkness for the prisoners; to proclaim the year of the Lord's favor and the day of vengeance of our God, to comfort all who mourn, and provide for those who grieve in Zion — to bestow on them a crown of beauty instead of ashes, the oil of joy instead of mourning, and a garment of praise instead of a spirit of despair. They will be called oaks of righteousness, a planting of the Lord for the display of his splendor.
"They will rebuild the ancient ruins and restore the places long devestated; they will renew the ruined cities that have been devastated for generations. Strangers will shepherd your flocks; foreigners will work your fields and vineyards. And you will be called priests of the Lord, you will be named ministers of our God. You will feed on the wealth of nations, and in their riches you will boast.
"Instead of your shame you will receive a double portion, and instead of disgrace you will rejoice in your inheritance. And so you will inherit a double portion in your land, and everlasting joy will be yours.
"For I, the Lord, love justice. I hate robbery and wrongdoing. In my faithfulness I will reward my people and make an everlasting covenant with them. Their descendeants will be known among the nations and their offspring among the peoples. All who see them will acknowledge that they are a people the Lord has blessed.
"I delight greatly in the Lord; my soul rejoices in my God. For he has clothed me with the garments of salvation and arrayed me in a robe of his righteousness, as a bridegroom adorns his head like a priest, and as a bride adorns herself with her jewels. For as the soil makes the sprout come up and a garden causes seeds to grow, so the Sovereign Lord will make righteousness and praise spring up before all nations."
Isaiah 61 NIV